岁月无声,风雨阳晴,春夏秋冬一轮回
时间不语,滴答老调,周而复始的流转
三百多个日夜,就这么悄然溜走了
岁末,总有一些感念,涌上心头
回首2020,这一年
我们肩负使命,与全国人民一起抗疫
我们心怀梦想,携手共进一路追光
我们遵从初心,伴着孩子一路成长
The years are silent, the wind, rain, sun and sunshine, spring, summer, autumn and winter a cycle.
Time is silent, ticking the same old tune, the flow of weeks and weeks!
More than three hundred days and nights have slipped away so quietly.
At the end of the year, there are always some feelings that come to mind
Looking back at 2020, this year.
We were on a mission to fight the epidemic together with the people of China.
We have dreams in mind, and we have been working together to pursue the light.
We follow our hearts and grow with our children.
新年伊始,就跟小编一起回顾普林斯顿2020年度的几个关键词吧。
At the beginning of the new year, let's review afew wonderful moments of 2020.
责任 Responsibility
年初,突如其来的疫情,打乱了我们的生活!这一刻,全国人民拧成一股绳共克时艰,普林斯顿国际教育集团以实际行动为抗击疫情贡献力量,传递社会正能量。
3月,参加"福田区3岁以下婴幼儿照护服务工作"调研会,大力推动深圳市婴幼儿照护服务的发展。
At the beginning of the year, the sudden epidemic disrupted our lives! Princeton International Education Group took practical actions to contribute to the fight against the epidemic and convey positive social energy.
In March, Princeton International Education Group participated in a research meeting on "infant care services for children under 3 years old in Futian District" to promote the development of infant care services in Shenzhen.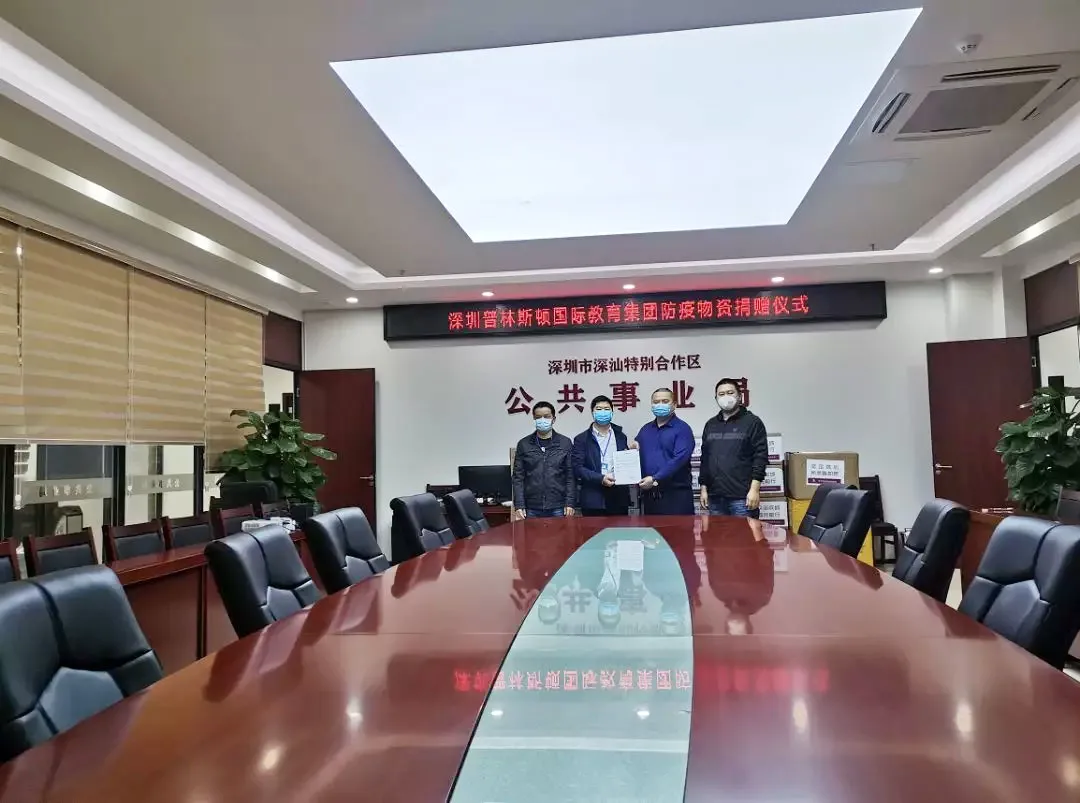 开拓 Pioneering
疫情下的2020,是举步维艰的一年。普林斯顿国际教育集团在逆境中,依然笃定目标,稳步向前!
1月,与华侨城集团联合打造的普华云海教育有限公司正式对外亮相,同时宣布双方合作的普林斯顿云海谷国际学校正式启动;与华侨城的合作,谱写了央企办教育的新篇章。
6月,正式开启云海谷国际营地项目,并圆满举办了2020年夏令营;
9月,云海谷国际体育学院成立,短短3个月,已为多家知名机构提供高尔夫、无人机专项训练,并与瀚悦(深圳)科技体育有限公司共同承办2020大湾区国际无人机竞速邀请赛,吸引130万余人同步观看。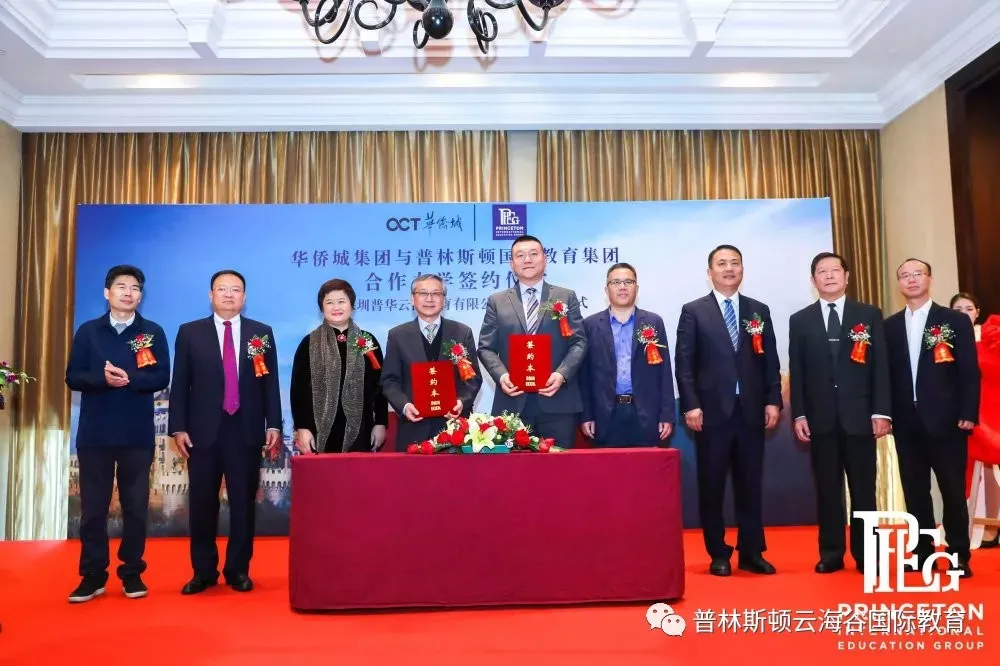 The year of 2020, under the epidemic,is a year of hardship. In the face of adversity, Princeton International Education Group is still sure of its goals and moving forward steadily!
In January, Princeton Yunhai Education Limited, a joint venture with OCTG, was officially established, and the official launch of Princeton Yunhai Valley International School, a joint venture between the two companies, was also announced.
In June, the official opening of the Yunhai Valley International Camp project and the successful holding of the 2020 summer camp.
In September, Yunhai Valley International Sports Academy was established, and in just three months, it has provided golf and drone special training for a number of well-known organizations, and co-hosted the 2020 Greater Bay Area International Drone Racing Invitational Tournament with Hangyue (Shenzhen) Technology & Sports Co., Ltd, attracting more than 1.3 million people to watch it simultaneously.
进步 Progress
"教学相长"一直是普林斯顿国际教育教师团队教研活动中坚守的信念。当孩子们在探索世界之时,老师们也在专业学习道路上不断钻研。
10月,为了使我园教师更好的开展园本特色课程,提高教学水平和业务实践能力,为之开展了一系列的学习培训活动,潜心打磨师资教研,成就高质量教学服务;
12月,每两周一次的集体教研,每次都是一场教师团队思想碰撞不同火花的旅程。
"Teaching and learning together" has always been the belief of the Princeton International Education faculty in teaching and research activities. While the children are exploring the world, the teachers are also studying on the path of professional learning.
In October, a series of training activities were conducted to enable our teachers to better develop the school-based curriculum and improve their teaching skills and business practices, in order to polish teachers' teaching and research and achieve high-quality teaching services.
In December we held fortnightly sessions, each session is a journey of a team of teachers' ideas colliding with different sparks.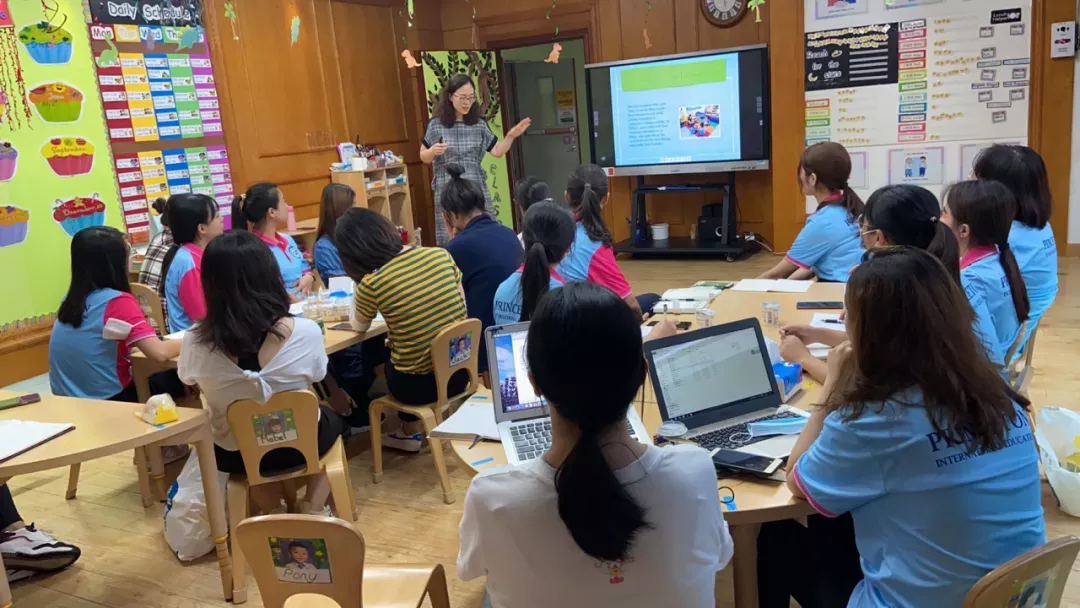 教育 Education
教育不仅仅在校园,更在于每一个细节,在每一个节点契机:
6月,是孩子们疫情后复课进校园的日子,也是活动最丰富的一个月:海洋日、父亲节、端午节,每个节日都以一种温情的方式,开展主题教育。
10月,送上了一场"浓情中秋,欢乐国庆!"的主题活动,弘扬和培养幼儿的爱国主义情怀!
11月,我们也带给了孩子们很多不同的体验,感受不同的文化氛围:
自然教育,让孩子们感受季节特征、感受植物的成长过程,感受丰收的乐趣;
走进小学,让孩子们近距离了解了小学生的学习生活与幼儿园生活的不同,感受到了小学校园生活的无限魅力;
感恩节,一张小小的卡片,承载着孩子们对老师和其他工作人员浓浓的感谢。
12月,体育教育成为主角,各式各样的运动,让孩子们大呼过瘾;另外,孩子们开启图书漂流,与小伙伴共享书中乐趣;举行跳蚤义卖,积极贡献旧物,去帮助需要帮助的人。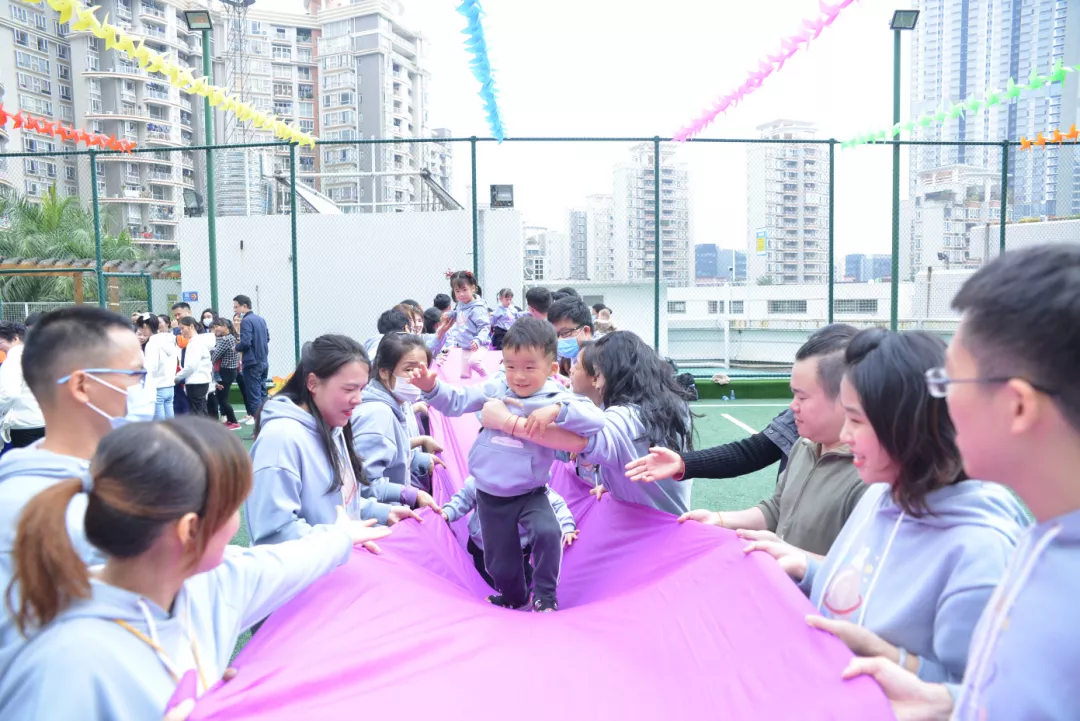 Education is not only on campus, but also in every detail and at every nodal opportunity.
June is the month when children re-enter the campus after the epidemic, and the month with the most abundant thematic educational activities:
The World Oceans Day, so that children can better understand marine life and know that to protect the marine environment is to protect human beings.
Happy Father's Day, which helps fathers to tell their children about their warm, unspoken and silently nurturing love.
Traditional Dragon Boat Festival, where children dressed in Chinese costumes, concentrated on making dragon boats, wrapping zongzi by hand and tying colored ropes carefully, learning about history and culture and traditional customs in a series of activities.
In October, in order to promote and cultivate patriotism in children, we gave them a "Mid-Autumn Festival, Happy National Day! We told children that "Mid-Autumn Festival + National Day = Chinese Festival!"
In November, we also brought many different experiences and cultures to our children.
We took the children into nature to increase their knowledge, get close to nature and feel life, allowing them to feel the characteristics of the seasons and the growth process of plants in nature, and to feel the fun of harvest in the plantation.
A unique study activity into elementary school, allowing children to learn the difference between the learning life of elementary school students and kindergarten life by observing with their own eyes, listening with their own ears and experiencing with their own hands, and to feel the infinite charm of elementary school campus life.
A small card carried the children's gratitude to their teachers and other staff.
In December, physical education became the main protagonist, and a vigorous sports week started, with yoga, taekwondo, martial arts, grabbing the bar, jumping rope, bouncing the ball …… countless programs, which made the children exclaim with delight. Parents and children read together, children started book floating and shared the fun of books with their little friends; flea sales, children actively contributed old things to help those in need.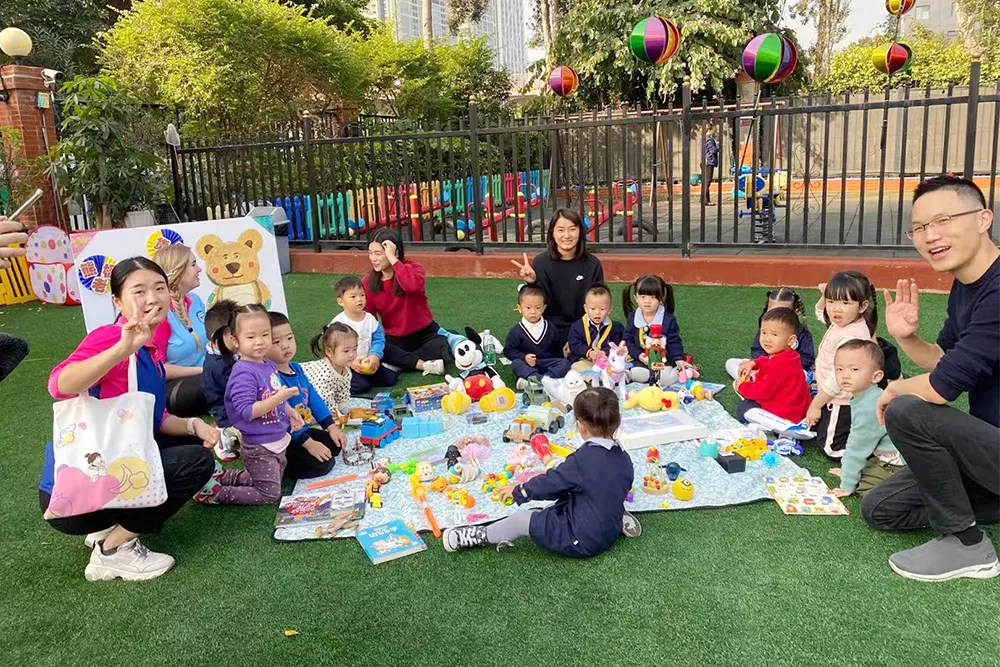 负责 Responsible
疫情之下,我们一直都在为孩子的健康安全努力着:
疫情防控相关活动,我们组织了紧急演练、全员师生核酸检测等不少于5次的活动,积极配合上级对校园的防疫工作检查及食堂专项检查;
此外,时刻关注孩子健康,牙齿保护、近视防控、病毒预防、冬季保健等方方面面给到家长们最温馨的提示。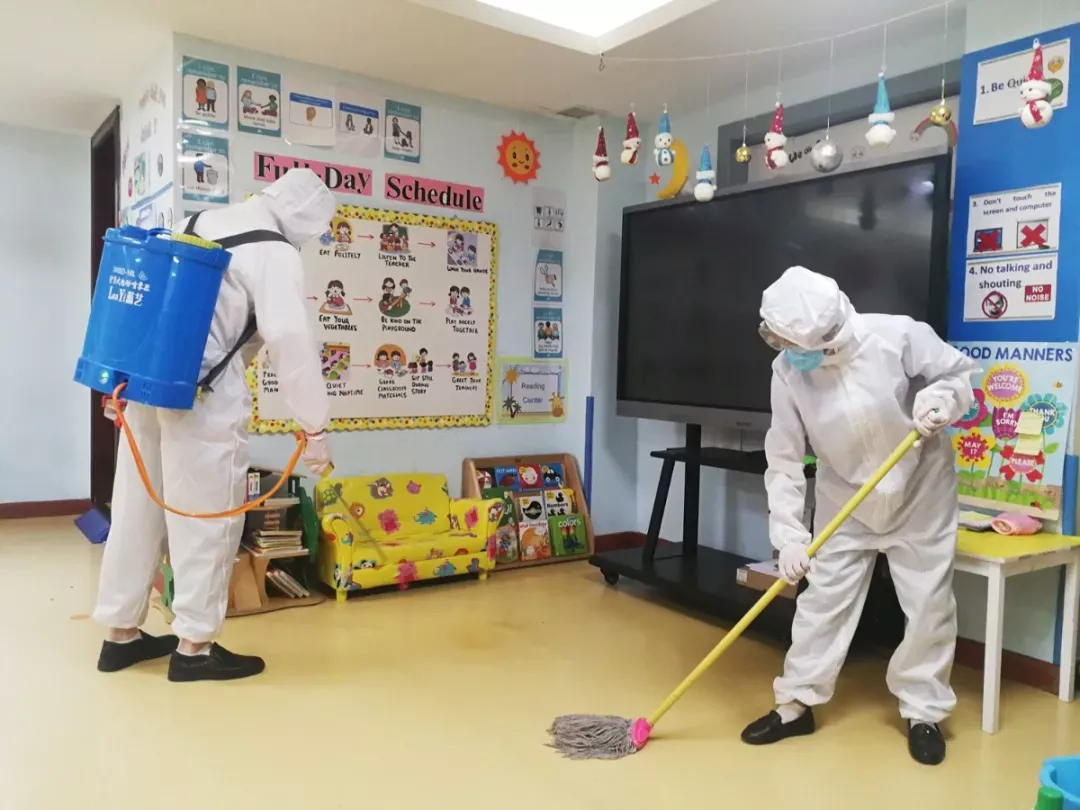 Under the epidemic, we have been working hard for the health and safety of children.
Knowledge related to epidemic prevention and control, we have pushed more than 20 articles.
Activities related to epidemic prevention and control, we organized no less than five emergency drills, nucleic acid testing for all teachers and students, and actively cooperated with the inspection of campus epidemic prevention work and special inspection of the cafeteria by our superiors.
At the same time, fire and anti-terrorism and explosion-proof drills are conducted from time to time.
In addition, always pay attention to children's health, dental protection, myopia prevention and control, virus prevention, winter health care and other aspects to give parents the most warm tips.
陪伴 Companionship
这一年,我们有很多温情时刻,每一个细节都值得回味,每一个瞬间都值得纪念:
7月,我们又送走了一批毕业生,只愿孩子们,带着我们的祝福,乘风破浪,扬帆起航;
7月,开学1个月的孩子们,过了有史以来时间最短的一个学期,我们以一种最为放松的方式——睡衣派对,为孩子们做最轻松的假期预备;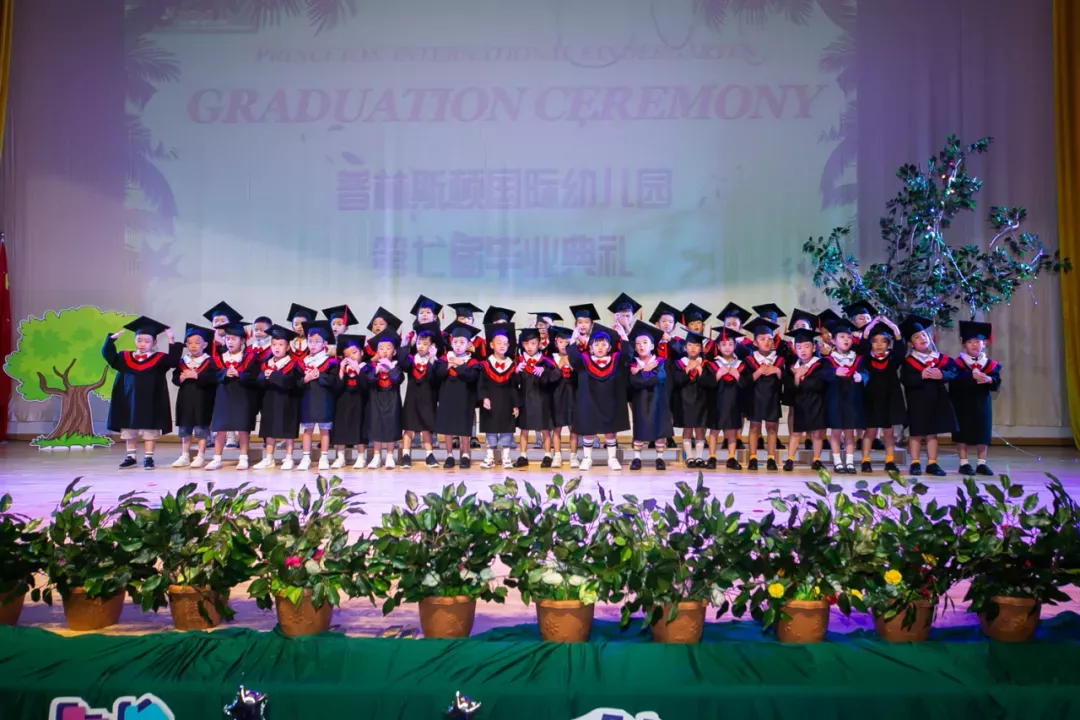 This year, we have had a lot of warm moments, every detail is worth recalling, every moment is worth remembering.
We don't know that spring has gone when it rains continuously, but when it clears, we realize the depth of summer, but in the blink of an eye, it has been three years already! In July, we sent off another batch of graduates. We wish our children, with our blessings, to ride the waves and set sail.
In July, we had the shortest semester ever for the children who started school one month ago, and we prepared the children for the holiday in the most relaxing way – a slumber party.
Halloween in October, we had a lot of tricks and treats with our children!
Christmas week in December, with love and joy.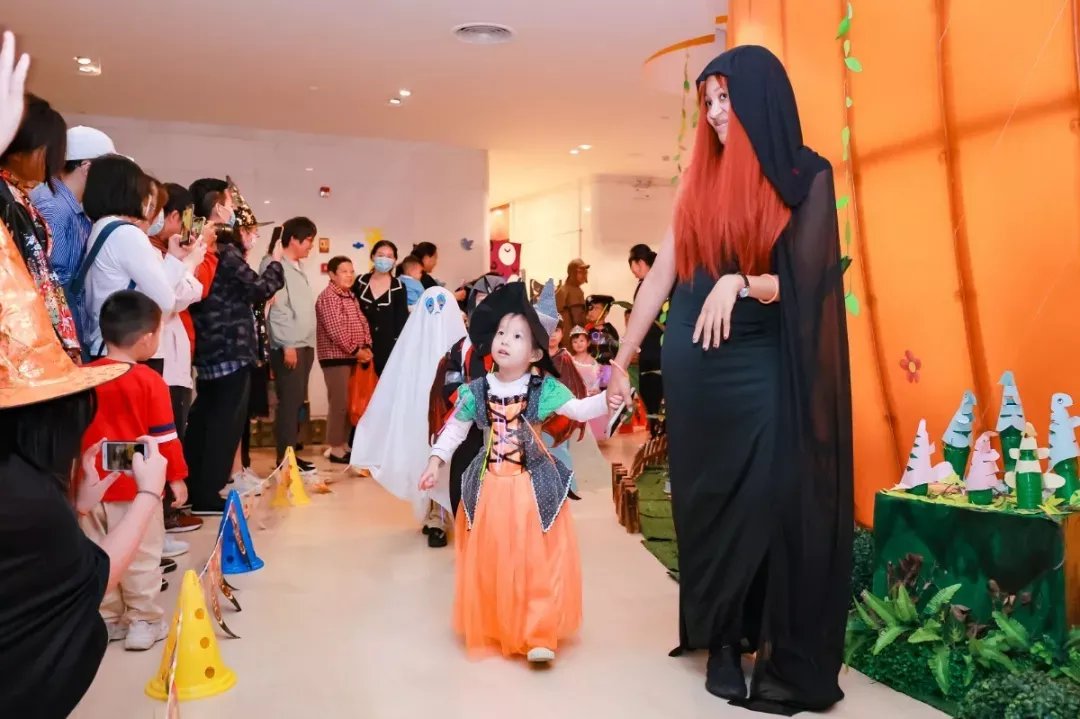 创新 Innovation
这一年,我们完成了幼儿园官网的一次升级改版,更加强调审美需求和栏目设置,采用简洁、清晰的风格,以深蓝作为主色调,在此基础上,通过明快的色调搭配突出网站的功能划分,方便家长快速锁定信息。
In this year, we completed an upgrade and revision of the kindergarten's official website, with more emphasis on aesthetic needs and column settings, adopting a simple and clear style, with dark blue as the main color, based on which the functional division of the website is highlighted through the bright color palette, making it easy for parents to lock information quickly.
匆匆而过的2020,
让我们刻下了这么多难于忘怀的印记,
也让我们拥有了面对一切的能力,
更增添了安然前行的勇气。
对于2021,我们相信:
无穷的远方,有无尽的梦想。
2020的结束和2021的开始,
只隔了一瞬。
凡是过往,皆是序章,
凡是未来,皆为可盼!
愿你往事不回头,未来不将就,
和昨天道一声再见
和明天说一声你好!
Rushing through 2020,
Gave us the ability to face everything,
Gave us the courage to move forward peacefully.
For 2021, we believe that
There are endless dreams in the infinite distance.
The end of 2020 and the beginning of 2021 are just a moment apart.
All the past is a prologue,
All the future is to be hoped for!
May you never look back and never settle for anything in the future.
Say goodbye to yesterday, and hello to tomorrow!